As a leading provider of electronic components and solutions, Molex views innovation as a tool for solving complex customer challenges. This philosophy has helped us not only create many pioneering electronic solutions, but also build a globally recognized company. Since developing our first electrical terminal block for the home appliance industry, Molex have expanded into some of the world's most complex and demanding markets. Today, Molex are able to bring our wide-ranging knowledge to bear on electronics challenges in many of the world's most critical industries. Molex use innovation, engineering excellence, commitment to quality and reliability and superior customer experience to improve communication, elevate experiences, and engage and inspire people everywhere.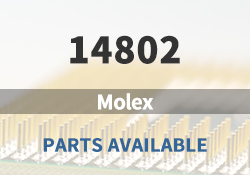 Molex Main Products

Connectors, Edgecards, and Sockets

Cable Assemblies

Printed Circuit Solutions

Optical Solutions

RF / Microwave Solutions

Electrical Products - Woodhead

Board-to-Board Connectors

Wire-to-Board Connectors

FFC / FPC Connectors
Molex Featured Parts (2023/12/8 Update)
More
We are a quality focused industry leader in supplying hard to find, long lead-time, end-of-life (EOL) and obsolete Molex electronic components.
What We Do
We stocks, sources, and distributes Molex electronic components to manufacturers of electronic products across a variety of industries.

Quality is Always Our Highest Priority
Our quality control procedures ensure you get the highest quality Molex parts, free of any substandard which can be prevalent within the electronics industry.

Navigate Sourcing Dilemmas
Our component sourcing team and internal data analytics crew are always working hard to find valuable opportunities for our customers and their key components for cost down spot buys.





In addition to
Molex
, we also focus on the following brands:
ELECTRONIC COMPONENTS DISTRIBUTOR | NHE Electronics is committed to always being one of our customers' favorite suppliers.