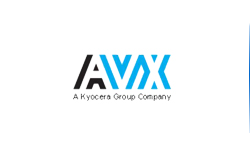 KYOCERA AVX is a leading global manufacturer of advanced electronic components engineered to accelerate technological innovation and build a better future. As a wholly owned subsidiary of Kyocera Corporation structured to capitalize on shared resources and technical expertise, KYOCERA AVX has an expansive global footprint comprised of several dozen research, development, and manufacturing facilities spanning more than 15 countries and staffed with talented personnel dedicated to innovation, component quality, customer service, and enabling a brighter future through technology. KYOCERA AVX designs, develops, manufactures, and supplies advanced capacitors, antennas, interconnects, circuit protection and timing devices, sensors, controls, filters, fuses, diodes, resistors, couplers, and inductors optimized for employment in the international 5G, IoT, aerospace, automotive, consumer electronics, industrial, medical, and military markets.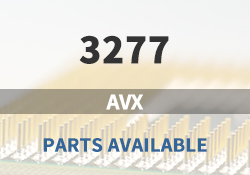 AVX Main Products

Aluminum Capacitors | Antenna Solutions

Ceramic Capacitors | Circuit Protection

Passive Micro Components (PMC) | Diodes | DLA / MIL-Spec

Filters | Fuses | Inductors

Modules | Niobium Oxide Capacitors | Polymer Capacitors

Power Film / Chip Film | Resistive Products

Sensing and Control | SuperCapacitors | Tantalum Capacitors

Thermistors | Varistors | Connectors

RF/Microwave Components | Broadband Components
AVX Featured Parts (2023/12/8 Update)
More
We are a quality focused industry leader in supplying hard to find, long lead-time, end-of-life (EOL) and obsolete AVX electronic components.
What We Do
We stocks, sources, and distributes AVX electronic components to manufacturers of electronic products across a variety of industries.

Quality is Always Our Highest Priority
Our quality control procedures ensure you get the highest quality AVX parts, free of any substandard which can be prevalent within the electronics industry.

Navigate Sourcing Dilemmas
Our component sourcing team and internal data analytics crew are always working hard to find valuable opportunities for our customers and their key components for cost down spot buys.





In addition to
AVX
, we also focus on the following brands:
ELECTRONIC COMPONENTS DISTRIBUTOR | NHE Electronics is committed to always being one of our customers' favorite suppliers.