WeEn Semiconductors Co., Ltd was registered as a company on Aug 5, 2015. With a heritage of over 50 years in semiconductor development and manufacturing, WeEn as a key player has focused on developing a wide and deep portfolio of industry-leading power products including Silicon Carbide Power Devices, Silicon Controlled Rectifiers and Triacs, standard and fast recovery Power Diodes , TVS and ESD protection Devices and IGBTs and modules. All these products are widely used in the markets for telecommunications, computers, consumer electronics, intelligent home appliances, lighting, automotive and power management applications. WeEn seeks to help our customers achieve improved cost and production efficiency and contribute to the development of global intelligent manufacturing.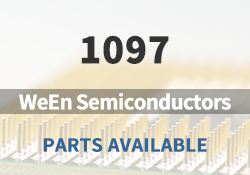 WeEn Semiconductors Main Products

Silicon Carbide(SiC)

Diodes

Thyristors

Automotive Grade Products

Transistors

Module

Transient Voltage Suppressor (TVS)

Insulated gate bipolar transistor (IGBT)

Electro-Static discharge diodes(ESD)
WeEn Semiconductors Featured Parts (2023/6/7 Update)
More
We are a quality focused industry leader in supplying hard to find, long lead-time, end-of-life (EOL) and obsolete WeEn Semiconductors electronic components.
What We Do
We stocks, sources, and distributes WeEn Semiconductors electronic components to manufacturers of electronic products across a variety of industries.

Quality is Always Our Highest Priority
Our quality control procedures ensure you get the highest quality WeEn Semiconductors parts, free of any substandard which can be prevalent within the electronics industry.

Navigate Sourcing Dilemmas
Our component sourcing team and internal data analytics crew are always working hard to find valuable opportunities for our customers and their key components for cost down spot buys.





ELECTRONIC COMPONENTS DISTRIBUTOR | NHE Electronics is committed to always being one of our customers' favorite suppliers.