Created in 2015, Ampleon is shaped by more than 50 years of RF Power leadership. The company envisions to make the world a better place through innovation in high frequency applications based on the advanced LDMOS and GaN technologies. Ampleon has more than 1,600 employees worldwide, dedicated to enable their customers to be successful with RF Power products through close cooperation and partnership, innovation, and excellent execution. Its innovative, yet consistent portfolio offers products and solutions for 4G LTE and 5G NR infrastructure, industrial, scientific, medical, broadcast, aerospace, and defense applications.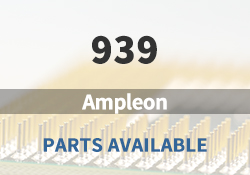 Ampleon Main Products

Mobile Broadband

Pulsed Radars

Matched - ISM, Cooking, Defrosting

UHF Broadcast

Extremely Rugged

General Purpose Wideband

RF Power

LDMOS and GaN Technologies

RF Power Transistors
Ampleon Featured Parts (2023/6/9 Update)
More
We are a quality focused industry leader in supplying hard to find, long lead-time, end-of-life (EOL) and obsolete Ampleon electronic components.
What We Do
We stocks, sources, and distributes Ampleon electronic components to manufacturers of electronic products across a variety of industries.

Quality is Always Our Highest Priority
Our quality control procedures ensure you get the highest quality Ampleon parts, free of any substandard which can be prevalent within the electronics industry.

Navigate Sourcing Dilemmas
Our component sourcing team and internal data analytics crew are always working hard to find valuable opportunities for our customers and their key components for cost down spot buys.





In addition to
Ampleon
, we also focus on the following brands:
ELECTRONIC COMPONENTS DISTRIBUTOR | NHE Electronics is committed to always being one of our customers' favorite suppliers.