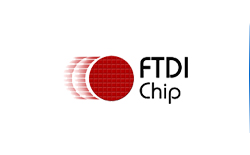 FTDI Chip is a fab-less semiconductor company, partnered with the world's leading foundries. FTDI Chip's long-established, continuously expanding Universal Serial Bus (USB) product line boasts such universally recognized product brands as the ubiquitous R-Chip, X-Chip, Hi-Speed and SuperSpeed USB 3.0 series. In addition to both host and bridge chips, it includes highly-integrated system solutions with built-in microcontroller functionality. The company's Embedded Video Engine (EVE) graphic controllers each pack display, audio and touch functionality onto a single chip. The unique, streamlined approach utilised by these ICs allow dramatic reductions in the development time and bill-of-materials costs involved in next generation Human Machine Interface (HMI) implementation. FTDI Chip also provides families of highly-differentiated, speed-optimised microcontroller units (MCUs) with augmented connectivity features, specifically designed with compatibility to its USB and Display product lines in mind.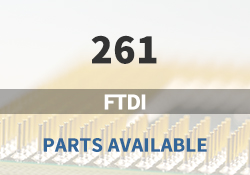 FTDI Main Products

H Series IC's

USB Full Speed Series IC`s

USB High Speed Series IC`s

USB Host Series IC`s

USB Superspeed Series IC`s

USB Cables Series

Application Modules Full Speed

Application Modules High Speed

Application Modules USB Host
FTDI Featured Parts (2023/12/8 Update)
More
We are a quality focused industry leader in supplying hard to find, long lead-time, end-of-life (EOL) and obsolete FTDI electronic components.
What We Do
We stocks, sources, and distributes FTDI electronic components to manufacturers of electronic products across a variety of industries.

Quality is Always Our Highest Priority
Our quality control procedures ensure you get the highest quality FTDI parts, free of any substandard which can be prevalent within the electronics industry.

Navigate Sourcing Dilemmas
Our component sourcing team and internal data analytics crew are always working hard to find valuable opportunities for our customers and their key components for cost down spot buys.





In addition to
FTDI
, we also focus on the following brands:
ELECTRONIC COMPONENTS DISTRIBUTOR | NHE Electronics is committed to always being one of our customers' favorite suppliers.