Established in 1997, IC PLUS Corporation is headquartered in Hsinchu, Taiwan. With over 70 international patents, IC PLUS has pioneered Networking Technology and played an important role in revolutionizing the foundation of modern infrastructure. IC PLUS offers a turnkey solution with product lines such as 10/100/1000 Transceiver, 10/100/1000 Ethernet Switch, 10/100/1000 Media Converter, and Power over Ethernet. With a focus on Ethernet Switch System, IC PLUS chipsets are used in a wide variety of applications covering both consumer and industrial market. Over 20 years of experiences in Networking Technology, IC PLUS has a class leading Research and Development Division that specializes in DSP, Analog and Digital Design, SoC Integration, and High Speed Mixed Mode. IC PLUS Corporation provides services and technical support through certified distributors in various worldwide locations.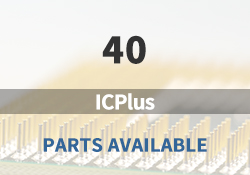 ICPlus Main Products

PHY Transceiver

PoE PSE Controller

Media Converter

MCU | Driver

Ethernet Switch

Single Port FE PHY

Octal FE PHY

Single Port Gigabit Ethernet PHY

2/4/8 Port PSE Controller
ICPlus Featured Parts (2023/12/8 Update)
More
We are a quality focused industry leader in supplying hard to find, long lead-time, end-of-life (EOL) and obsolete ICPlus electronic components.
What We Do
We stocks, sources, and distributes ICPlus electronic components to manufacturers of electronic products across a variety of industries.

Quality is Always Our Highest Priority
Our quality control procedures ensure you get the highest quality ICPlus parts, free of any substandard which can be prevalent within the electronics industry.

Navigate Sourcing Dilemmas
Our component sourcing team and internal data analytics crew are always working hard to find valuable opportunities for our customers and their key components for cost down spot buys.





In addition to
ICPlus
, we also focus on the following brands:
ELECTRONIC COMPONENTS DISTRIBUTOR | NHE Electronics is committed to always being one of our customers' favorite suppliers.