Located in Mission Viejo, California, Holt Integrated Circuits is a major supplier of Integrated Circuits for the aerospace industry. For over twenty years, Holt has manufactured data bus and display drivers for both commercial and military users worldwide. From F-16 to A-350, you will find Holt ICs at the heart of Flight Control, Navigation, Engine Management, Communications, Safety equipment, and In-Flight Entertainment systems. Over 400 Avionics manufacturers rely on Holt's proven track record of customer service, unsurpassed quality and cost-effectiveness, and technical excellence to keep their products at the leading edge.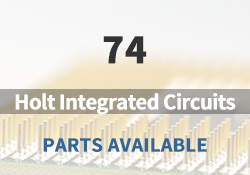 Holt Integrated Circuits Main Products

ARINC 429

MIL-STD-1553

ARINC 825 (CAN)

ARINC 717

RS485 / 422

Discrete-to-Digital

Analog Switches

Controller Area Network (CAN)

LCD Display Drivers
Holt Integrated Circuits Featured Parts (2023/12/8 Update)
More
We are a quality focused industry leader in supplying hard to find, long lead-time, end-of-life (EOL) and obsolete Holt Integrated Circuits electronic components.
What We Do
We stocks, sources, and distributes Holt Integrated Circuits electronic components to manufacturers of electronic products across a variety of industries.

Quality is Always Our Highest Priority
Our quality control procedures ensure you get the highest quality Holt Integrated Circuits parts, free of any substandard which can be prevalent within the electronics industry.

Navigate Sourcing Dilemmas
Our component sourcing team and internal data analytics crew are always working hard to find valuable opportunities for our customers and their key components for cost down spot buys.





ELECTRONIC COMPONENTS DISTRIBUTOR | NHE Electronics is committed to always being one of our customers' favorite suppliers.