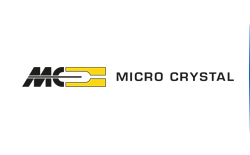 Micro Crystal AG, a company of the Swatch Group Inc. Switzerland, founded in 1978, is a leading manufacturer of Miniature Quartz Crystals (32kHz to 250MHz), Real Time Clocks, Oscillators and OCXOs for the world's leading manufacturers of Wearables, IoT, mobile phones, consumer products, computers, automobile electronics, watches, industrial controls, as well as medical implantable devices and other high-reliability product applications. With offices located around the globe, Micro Crystal AG provides in-depth support for our customers from design-in to mass production.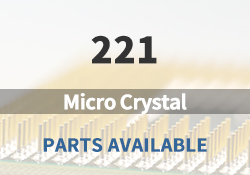 Micro Crystal Main Products

Real-Time Clock (RTC) Modules

kHz Oscillators

kHz Quartz Crystals

High Frequency Crystals and Oscillators

Whitepapers / Technical Notes

ECAD Models

32.768kHz Quartz Crystals

MHz AT-cut Oscillators

kHz Tuning Fork Oscillators
Micro Crystal Featured Parts (2023/10/2 Update)
More
We are a quality focused industry leader in supplying hard to find, long lead-time, end-of-life (EOL) and obsolete Micro Crystal electronic components.
What We Do
We stocks, sources, and distributes Micro Crystal electronic components to manufacturers of electronic products across a variety of industries.

Quality is Always Our Highest Priority
Our quality control procedures ensure you get the highest quality Micro Crystal parts, free of any substandard which can be prevalent within the electronics industry.

Navigate Sourcing Dilemmas
Our component sourcing team and internal data analytics crew are always working hard to find valuable opportunities for our customers and their key components for cost down spot buys.





In addition to
Micro Crystal
, we also focus on the following brands:
ELECTRONIC COMPONENTS DISTRIBUTOR | NHE Electronics is committed to always being one of our customers' favorite suppliers.