Kionix, Inc. is a global MEMS inertial sensor manufacturer based in Ithaca, NY, USA. Kionix offers high-performance, low-power accelerometers, Leading consumer, health and fitness and industrial companies worldwide use Kionix sensors and total system solutions to enable motion-based functionality in their products. Kionix's newest product innovations include KX132-1211 (up to ±16g) & KX134-1211 (up to ±64g) accelerometers. Kionix was acquired by ROHM Co., Ltd. of Japan on November 16, 2009. Kionix is able to leverage ROHM's resources as a leading semiconductor company in order to advance its technology, sustain its growth while reducing costs, and expand its global reach through an established and thriving international customer base.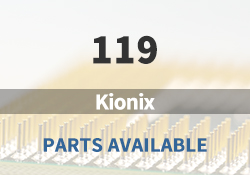 Kionix Main Products

MEMS Inertial Sensor

High-performance, Low-Power Accelerometers

Kionix Sensors
Kionix Featured Parts (2023/12/8 Update)
More
We are a quality focused industry leader in supplying hard to find, long lead-time, end-of-life (EOL) and obsolete Kionix electronic components.
What We Do
We stocks, sources, and distributes Kionix electronic components to manufacturers of electronic products across a variety of industries.

Quality is Always Our Highest Priority
Our quality control procedures ensure you get the highest quality Kionix parts, free of any substandard which can be prevalent within the electronics industry.

Navigate Sourcing Dilemmas
Our component sourcing team and internal data analytics crew are always working hard to find valuable opportunities for our customers and their key components for cost down spot buys.





In addition to
Kionix
, we also focus on the following brands:
ELECTRONIC COMPONENTS DISTRIBUTOR | NHE Electronics is committed to always being one of our customers' favorite suppliers.