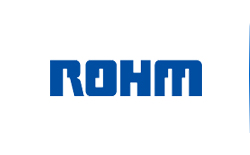 Since it was founded in 1954, ROHM has consistently pursued a guarantee rate one order of magnitude higher than the industry standard with the motto of 'Quality First', through comprehensive quality control and reliability management. By 1964, ROHM already reached a defect rate for resistors of 1 in 1,000,000, compared to 1 in 100,000 with other manufacturers. Since then, ROHM have been striving to improve the guarantee rate ahead of the industry, such as by implementing mechanization and semi-automation in all processes. "R" represents the first letter of our original main product, Resistors. This was put together with the unit for resistance " ohm". The "R" now also stands for "Reliability". "Quality First" is ROHM's corporate policy.
ROHM Main Products

ICs

Discrete Semiconductors

Power Devices

Passive Devices

Modules (Sub Systems)

Opto Devices

MOSFETs

Diodes

Intel Chipset
ROHM Featured Parts (2023/6/9 Update)
More
We are a quality focused industry leader in supplying hard to find, long lead-time, end-of-life (EOL) and obsolete ROHM electronic components.
What We Do
We stocks, sources, and distributes ROHM electronic components to manufacturers of electronic products across a variety of industries.

Quality is Always Our Highest Priority
Our quality control procedures ensure you get the highest quality ROHM parts, free of any substandard which can be prevalent within the electronics industry.

Navigate Sourcing Dilemmas
Our component sourcing team and internal data analytics crew are always working hard to find valuable opportunities for our customers and their key components for cost down spot buys.





In addition to
ROHM
, we also focus on the following brands:
ELECTRONIC COMPONENTS DISTRIBUTOR | NHE Electronics is committed to always being one of our customers' favorite suppliers.