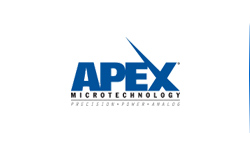 Founded in 1980, Apex Microtechnology was acquired in 2007 by Cirrus Logic. Following a five-year tenure as a division of the Austin, Texas, based developer of complex chip designs, Apex Microtechnology was returned to a stand-alone corporation in 2012 with its sale to a private investor group led by Alerion Capital Group, a private equity and management advisory firm located in Scottsdale, Arizona. In 2018, Apex was acquired by HEICO Corporation as a part of their Electronics Technologies Group. Apex Microtechnology, a subsidiary of HEICO Corporation, is based in Tucson, Arizona. Apex designs and manufactures precision power analog monolithic, hybrid and open frame components for a wide range of industrial, test and measurement, medical, aerospace and military applications. Apex Microtechnology is a recognized leader for consistently developing products that lead the industry in terms of performance, quality, and reliability.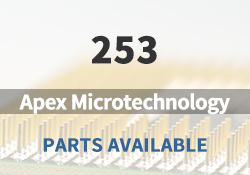 Apex Microtechnology Main Products

Power Operational Amplifiers

PWM Amplifiers

Voltage References

High Current Selector Matrix

High Voltage Selector Matrix

Accessories

PWM Selector Matrix

VRE Selector Matrix

VRE Over Temperature
Apex Microtechnology Featured Parts (2023/10/2 Update)
More
We are a quality focused industry leader in supplying hard to find, long lead-time, end-of-life (EOL) and obsolete Apex Microtechnology electronic components.
What We Do
We stocks, sources, and distributes Apex Microtechnology electronic components to manufacturers of electronic products across a variety of industries.

Quality is Always Our Highest Priority
Our quality control procedures ensure you get the highest quality Apex Microtechnology parts, free of any substandard which can be prevalent within the electronics industry.

Navigate Sourcing Dilemmas
Our component sourcing team and internal data analytics crew are always working hard to find valuable opportunities for our customers and their key components for cost down spot buys.





ELECTRONIC COMPONENTS DISTRIBUTOR | NHE Electronics is committed to always being one of our customers' favorite suppliers.