Founded in 1995, GSI Technology, Inc. is a leading provider of SRAM semiconductor memory solutions. GSI's newest products leverage its market-leading SRAM technology. The Company recently launched radiation-hardened memory products for extreme environments and the Gemini® APU, a memory-centric associative processing unit designed to deliver performance advantages for diverse AI applications. The Gemini APU's architecture features parallel data processing with two million-bit processors per chip. The massive in-memory processing reduces computation time from minutes to milliseconds, even nanoseconds, while significantly reducing power consumption in a scalable format.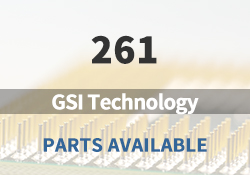 GSI Technology Main Products

QUAD SRAMs

DDR SRAMs

IP PORTs

NBT SRAMs

SYNCBURST SRAMs

LOW LATENCY DRAMs

SPECIALTY SRAMs

ASYNCHRONOUS SRAMs

MEMORY PRODUCTS
GSI Technology Featured Parts (2023/12/8 Update)
More
We are a quality focused industry leader in supplying hard to find, long lead-time, end-of-life (EOL) and obsolete GSI Technology electronic components.
What We Do
We stocks, sources, and distributes GSI Technology electronic components to manufacturers of electronic products across a variety of industries.

Quality is Always Our Highest Priority
Our quality control procedures ensure you get the highest quality GSI Technology parts, free of any substandard which can be prevalent within the electronics industry.

Navigate Sourcing Dilemmas
Our component sourcing team and internal data analytics crew are always working hard to find valuable opportunities for our customers and their key components for cost down spot buys.





ELECTRONIC COMPONENTS DISTRIBUTOR | NHE Electronics is committed to always being one of our customers' favorite suppliers.