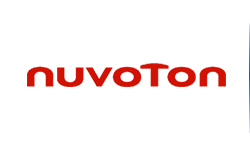 Nuvoton Technology was founded to bring innovative semiconductor solutions to the market. NTC was spun-off as a Winbond Electronics affiliate in July 2008 and went public in September 2010 on the Taiwan Stock Exchange (TSE). Nuvoton Technology focuses on the developments of microcontroller, microprocessor, smart home and cloud security IC and has strong market share in Industrial, Consumer and Computer markets. Nuvoton owns a wafer fab, featuring customized processes for analog and power products. Besides in-house IC products, the wafer fab also provides part of its capacity for foundry services. Nuvoton Technology provides products with a high performance/cost ratio for its customers by leveraging flexible technology, advanced design capability, and integration of digital and analog technologies.
Nuvoton Technology Main Products

Microcontrollers

Microprocessors

Analog ICs

Cloud Computing

DSP / ISPs

Image Sensors

MOSFET

Smart Home Audio

Power Management
Nuvoton Technology Featured Parts (2023/12/8 Update)
More
We are a quality focused industry leader in supplying hard to find, long lead-time, end-of-life (EOL) and obsolete Nuvoton Technology electronic components.
What We Do
We stocks, sources, and distributes Nuvoton Technology electronic components to manufacturers of electronic products across a variety of industries.

Quality is Always Our Highest Priority
Our quality control procedures ensure you get the highest quality Nuvoton Technology parts, free of any substandard which can be prevalent within the electronics industry.

Navigate Sourcing Dilemmas
Our component sourcing team and internal data analytics crew are always working hard to find valuable opportunities for our customers and their key components for cost down spot buys.





ELECTRONIC COMPONENTS DISTRIBUTOR | NHE Electronics is committed to always being one of our customers' favorite suppliers.