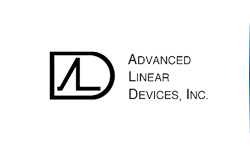 Advanced Linear Devices, Inc. (ALD) develops, manufactures and markets precision CMOS linear integrated circuits. Founded in 1985, ALD continues to be a leading supplier of analog semiconductors to many OEM manufacturers of industrial controls, instrumentation, computers, medical devices, automotive, and telecommunications products. Based in Sunnyvale, California, ALD is situated in the heart of the Silicon Valley where myriad semiconductor industry firsts continue to outpace the rest of the world. ALD's staff includes a team of veteran engineers and scientists - many with extensive semiconductor design, technology and manufacturing backgrounds. ALD is a global supplier of instrument grade analog CMOS components and systems designed for precision circuit and high reliability applications. ALD are also recognized as one of the early analog pioneers and semiconductor innovators with many design firsts to our own credit including: rail to rail operational amplifiers, Function Specific ASIC (Application Specific Integrated Circuits), low charge injection analog switches and EPAD® on-chip electronic trimming.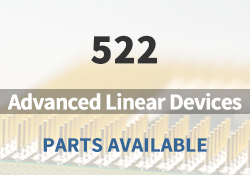 Advanced Linear Devices Main Products

MOSFET Arrays

Operational Amplifiers

Analog Voltage Comparators

Analog Switches

Analog Timers

Dual Slope ADC Processors & Controllers

Energy Harvesting Products

Digital Voltmeters (DVMs)

Applicaton Specific Integrated Circuits (ASIC)
Advanced Linear Devices Featured Parts (2023/10/2 Update)
More
We are a quality focused industry leader in supplying hard to find, long lead-time, end-of-life (EOL) and obsolete Advanced Linear Devices electronic components.
What We Do
We stocks, sources, and distributes Advanced Linear Devices electronic components to manufacturers of electronic products across a variety of industries.

Quality is Always Our Highest Priority
Our quality control procedures ensure you get the highest quality Advanced Linear Devices parts, free of any substandard which can be prevalent within the electronics industry.

Navigate Sourcing Dilemmas
Our component sourcing team and internal data analytics crew are always working hard to find valuable opportunities for our customers and their key components for cost down spot buys.





ELECTRONIC COMPONENTS DISTRIBUTOR | NHE Electronics is committed to always being one of our customers' favorite suppliers.